Bible verse of the day
And everyone who calls on the name of the Lord will be saved.
Pastor Gary M. Renfro & First Lady Vivian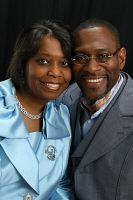 Established in 1939, Corinth Missionary Baptist Church is a place where families and individuals can experience God. Our congregation comes from all walks of life and embrace worship, fellowship, and outreach. Gary M. Renfro, the third Pastor of CMBC, calls all members to Commit to a Kingdom Cause.