SUN 8:00 AM

SUN 11:00 AM

THU 7:00 PM

WED 6:00 PM

WED 7:30 PM

27Apr 2017

29Apr 2017

30Apr 2017

St. John District – Combined Board Meeting – 3:30 PM

St. John Tabernacle, 7501 Blessing Avenue, Austin, TX 78752

10May 2017

Mother's Day Dinner – 6:00 PM

CMBC, Allen Hall
Bible verse of the day
But now in Christ Jesus you who once were far away have been brought near by the blood of Christ.
Pastor Gary M. Renfro & First Lady Vivian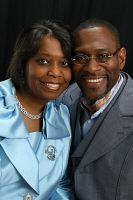 Established in 1939, Corinth Missionary Baptist Church is a place where families and individuals can experience God. Our congregation comes from all walks of life and embrace worship, fellowship, and outreach. Gary M. Renfro, the third Pastor of CMBC, calls all members to Commit to a Kingdom Cause.